Takwaakuw Wilaxun (Autumn Wind Scott)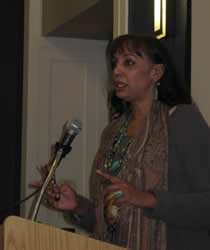 Takwaakuw Wulaxun, (Autumn Wind Scott), has served her community
officially since 1999 as Commissioner to the New Jersey State Commission
on American Indian Affairs, and was given the title of Chair in 2009. She
was appointed in early 2007, by Governor Corzine to serve on his
committee on Native American Community Affairs, as per executive order
#24.
Autumn has been an activist for American Indian rights for over 25 years,
and is well known and respected among Native peoples in the tri-state area. She is a sought after
lecturer and public speaker, educating the public at large as to the rich history and contemporary
lifestyles of today's American Indian Tribes of New Jersey.
Autumn is committed to raising awareness on contemporary social issues facing Native people today.
She is currently working on the educational inequities facing Indian youth in public educational facilities
as it relates to the mascot/logo issue. She has written and produced the New Jersey State cultural
sensitivity training protocol for the Office of the Attorney General, for all NJ Law Enforcement Agencies.
She will also contribute to expand the core curriculum standards to include New Jersey's indigenous
populations.
With a performance arts background as a choreographer, actress, and traditional dancer, Autumn
is also an award winning artist of contemporary and traditional American Indian art. Her work has
been featured in Movies, Museums, and Galleries in the United States, and her specialty "No Face"
dolls have been sold internationally. Her work has also been featured in many magazines, and news
publications.
As a Producer and Coordinator of American Indian events, she has aided in educating the greater
public through bringing cultural events to their communities. Subsequently, due to her longstanding
influence within native communities, she has become a valuable resource to those with a performance
art background who are seeking performance opportunities. Autumn has facilitated performances for
such institutions as the American Museum of Natural History, (Kaufmann Theater), and the Museum
of Arts and Sciences in Pa. to name a few. Additionally she has also produced events for Federal and
State Agencies, Museums, Universities, elementary schools, and various organizations. She has also
produced "pow wow's" throughout New Jersey for over 20 years.
Currently retired, Autumn Wind was the first American Indian woman to secure a national ad as a
fashion model. She worked in the fashion industry for over three decades, excelling in high fashion
runway, print, and television. She continues to utilize those talents for the Native community by
doing public service announcements on local television stations to raise awareness during American
Indian heritage month. She recently had a cameo appearance in an HBO documentary dealing with
environmental injustice within a Tribal community, and is a principle in and facilitating an upcoming
Hollywood produced movie, dealing with the history of the Ramapough Lenape Nation of New Jersey.
As a result of her commitment to Native people, Autumn Wind was honored to have been asked to give
the opening remarks at the World's indigenous peoples summit at the United Nations, in 2002. She is
currently looking to publish her first book on the Ramapough Lenape Indians of New Jersey, and New
York.
Aaron W. Campbell Founder & CEO
B.A., University of Pennsylvania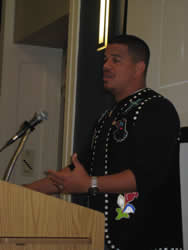 Aaron Campbell is the tribally adopted "baby brother" of renowned chief,
Cyril George, of the Angoon Deisheetaan clan. Aaron is the founder and
senior pastor of Antioch of Calvary Chapel, Inc.—a ministry well-noted for
its service to the Philadelphia community over the last decade. Both a
visionary and an activist, Campbell possesses the unique skill set of engaging and
connecting people from all walks of life. He works closely with various organizations
and administration at The University of Pennsylvania, and at the other end of the
spectrum, venturing into Port-au-Prince, Haiti just after the earthquake, Campbell
braved the death-stenched streets and personally rescued families from human
traffickers and disease outbreak, whom he now mentors and financially supports.
Serving on various community development boards in Philadelphia over the years,
Campbell's passion is raising Native-American awareness while building bridges so
that ignorance may be dispelled and collective courses of action may abound. He has
been laboring in Angoon, Alaska for the last six years. Campbell is also a published
author, whose work has been adopted into university curriculum.
http://www.angoonaliveproject.org/
Angoon Alive Project, Inc. ("AAP"), is a coalition of Native-
Americans, business professionals, and philanthropists
dedicated to helping the impoverished native community of
Angoon, Alaska achieve economic self-sufficiency and
community transformation via our grassroots, sustainable
development model. Angoon is one of the few-remaining
traditional, native villages of the renowned Tlingit tribe
(pronounced "Klinkit"), located on Admiralty Island in
Southeast Alaska. Known for its preservation of "subsistence living" and its "traditional"
breathtaking art that adorns our nation's top-tier museums, Angoon is currently being crippled
by burdens, by-and-large ignored by the outside world. Angoon faces several alarming factors
(just to name a few): 87% unemployment, 40% of children living below poverty line, and
exorbitant energy costs ($.65kw.h). Consequently, these factors are combining to create yet
another "Trail of Tears" of sorts, as many are now forced to leave their beloved homeland and
seek a living elsewhere. And at a time when Alaskan natives—and Native-Americans as a
whole—are ever-fearing complete "Westernization" at the expense of all their cultural identity,
traditions, and values (what many natives across our land mournfully refer to as
institutionalized "ethnic cleansing"), Angoon must maintain its defining role as a bedrock of
traditional native preservation.